What to do with a small kitchen.
Kitchen Interior Design
What to do with a small kitchen? If you are about to start sprucing up our kitchen. But there's one thing you won't be able to change: its size. You don't have the funds to knock down walls. To create an open-plan kitchen-diner, so you are going to have to make the most of the narrow galley-style space.
Keep things simple.
When it comes to choosing cupboard doors, drawer fronts, worktops, and splashbacks. To keep things sleek and simple to avoid making a small kitchen feel busy or overly cluttered. White or very pale colours will help to create the illusion of space. I would also recommend sticking to three or four different shades at most. You could even consider running the same colour across the cabinets, worktops, and walls. This will remove any visual barriers that break up the kitchen and therefore making it seem much larger overall. It's also worth selecting understated handles instead of chunky designs. Or even doing away with them altogether in favour of integrated push-to-open mechanisms.
Do without wall cabinets.
Always remember that simple doesn't mean boring. You can easily add personality and interest to a minimalist kitchen with plants, ceramics, artwork and other accessories.
Wall cabinets really encroach on space and can make a small kitchen seem even more cramped. So consider foregoing them and having lower units only. It might seem counter-intuitive when you're trying to pack a lot into the room. The results will look much airier and more inviting. Open shelves are a great option for small kitchens, as they're much less imposing than wall cabinets. They also enable you to create interesting displays with ceramics and glassware and to keep regularly used items at hand.
Many people shy away from open shelves . Because they're worried about dust. I've had them in my kitchen for years and it really isn't much of a problem. A quick wipe down once every couple of weeks is all that's needed.
Install hanging rails and hooks.
Hanging rails and hooks make an eye-catching and convenient way to store utensils, pans and more. They can be fixed directly to the wall or to the underside of shelves and cabinets. You can even buy clever accessories that let you transform them into anything from cookbook holders to dish racks.
Maximise cupboard space.
There are also lots of clever tricks to help you eek every square centimetre of storage out of your cupboards. If budget allows, you can buy pull-out inserts that vastly increase the amount of useable internal space; if funds are more limited, shelf risers and freestanding plate and pan racks can make a big difference.
Other quick-win solutions include storing food in glass jars or see-through tubs. This means you can stack them on top of each other and still find what you need at a glance. Installing hooks on the inside of doors for small utensils.
Choose integrated appliances.
Integrated appliances tend to take up much less space than freestanding ones. Being able to hide them behind cupboard doors will give a streamlined look. This tricks the eye into thinking your kitchen is bigger than it is. Don't assume you need to go for full-size appliances, either. There are plenty of compact dishwashers and fridge-freezers. These are so well designed that you'll barely notice they're smaller than standard options.
Be clever with lighting.
Many people assume that having a small kitchen means you only need a single overhead light. That can leave you with dark corners, and you'll often find you're working in your own shadow. So, look at installing task lighting above food preparation areas, hobs and sinks. There are lots of solutions. Such as compact tubes and LED spots that can be mounted on the underside of shelves or cupboards. Many come with dimmer functions so you can alter the mood.
You can also use lighting to create a statement feature without taking up much space. Perhaps by suspending a row of pendants over a worktop. Or by installing an eye-catching wall lamp that can be angled to direct the light where needed.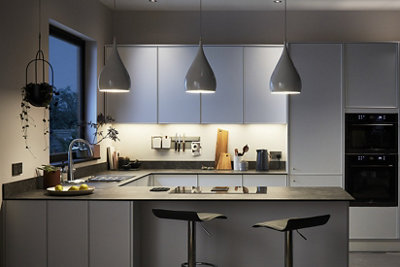 Thank you for taking the time to read my blog. Do get in touch if you would like me to help you with your project.
Kirstie
https://www.jubyinteriordesign.co.uk/wp-content/uploads/2019/10/DSC_0013.jpg
2000
3008
Kirstie
https://jubyinteriordesign.co.uk/wp-content/uploads/2019/12/logo-min-300x152.png
Kirstie
2019-12-07 14:36:20
2022-04-24 19:14:21
What to do with a small kitchen.